To some people Bob Dylan is that guy who plays the harmonica and sings the "Mr. Tambourine Man" song, "which, did you know, is about drugs," they will proudly say to sound hip as they think back on the days when "Like a Rolling Stone" dominated the airwaves. To others, he is not just any musician, but one of the best ever; a man of many voices who has layers of music to peel away and rediscover again. At Jones Beach both kinds of people would have found his performance enjoyable, and both kinds of people were there.
Some people may assume that at this stage of his never-ending tour, his voice is too shot, and he is too old to put on a good performance. However, his voice was far from being the issue during the show, rather it was the fans that were there just to
see
Bob Dylan, the man who plays harmonica and sings those songs off his greatest hits album. In fact, most of the crowd was stiff and horrible, and drained of energy. The most emotion that a large amount of them showed was viciously telling other people to sit down, while others applauded every time a stander gave in.
We had to move up several times because we weren't about to sit down and watch the show awkwardly twiddling our thumbs around. We would had been content where our regular seats were, but we didn't mind moving up, it's just the fashion in which we had to do so; it was like we were being run out of town like dirty crooks or something. We even took the liberty of seeking areas where there were several empty rows directly behind us, but that didn't matter to the sit-down-police far behind us, who seemed to want us to sit down out of the principal of it. We finally found the only four people who were really dancing up a storm, and stood behind them. Eventually a small handful of others joined our little pocket of standers, and then most of the crowd stood for "Like a Rolling Stone" and "All Along the Watchtower." Typical. "Highway 61" and "Thunder on the Mountain," which the band put some real good energy into didn't even draw too many people to their feet. The people who had been yelling, "sit down you wankers" never made it to their feet at all. It was as though they showed up expecting to watch a Broadway play or orchestral performance. We had NEVER seen such a outrage made against people standing up during a concert, but the dancing people in front of us, and others that have seen Bob Dylan before have assured us since that this is a problem they have run into before at his past concerts.
The venue is beautiful, right on the water, and the night was an ideal temperature, but the fact that the venue doesn't sell booze only added to the stiffness of the crowd, most of who seemed to be looking for something to complain about. Perhaps somewhere such as Terminal 5, where Dylan played a sold out show back in November, would be a better place to see him as it caters to a standing crowd.
Dylan came out with his six-piece band, him being on the keyboard and harmonica, and began and ended the main set with songs commonly played during the famous electric sets of his 1966 tour with "Leopard Skin Pillbox Hat" and "Ballad of a Thin Man" respectably. The band started with good energy, and retained it through the whole show, including some great improvisational jams.
Along with the crowd-pleasers, he also played some early classics such as "To Ramona," "Ballad of Hollis Brown," and "The Lonesome Death of Hattie Carroll." He did an interesting rendition "Tangled Up in Blue," which had a different pace than its studio version, and other released live versions. He included a nice bittersweet version of "Simple Twist of Fate," and played several newer songs off three of his well-regarded albums released between 1997 and 2009. In all he did fifteen songs, a small handful of which he has been consistently playing during this leg of his tour. However, he has a long repertoire of songs, and has been taking advantage of that, and can easily surprise you with a personal favorite that you may not expect him to play. While at some times it helped to know the lyrics to his songs, we agreed that both he and his backing band sounded much better then when we previously saw him in 2006 and 2007, and he still pulls out harmonica solos that will amaze you, and keep you wondering how he has enough breath to do so.
The bottom line is that Dylan is still going at it, and still worth seeing. After all, he is a living legend that is giving us the opportunity to see him on a yearly basis. While every now and then he might have an off night, it really is the potential for a stiff crowd to be warned about.

-JKS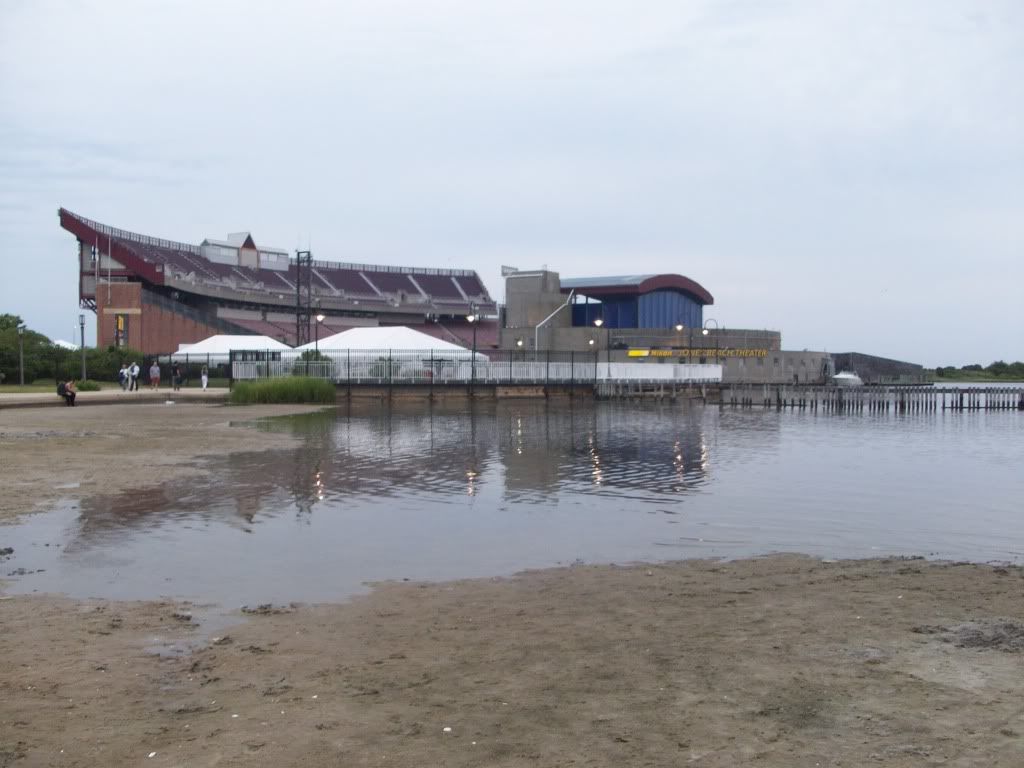 (an original photograph by J.S.)